Naheel Naber '16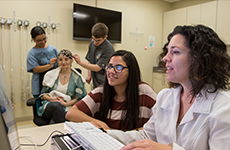 What are you up to now?
I'm currently at Rowan University pursuing my Master of Counseling in Educational Settings. I was able to obtain a graduate assistantship position, working as the graduate coordinator for the Dr. Harley E. Flack Mentoring Program for the Office of Social Justice, Inclusion, and Conflict Resolution.
Why did you choose Stockton?
I chose Stockton because it's close to home, and I knew it would provide me with an unforgettable, individualized educational experience. The tight-knit community, remarkable faculty, friendly atmosphere and intimate learning environment are only a few of the reasons to choose and love Stockton!
Why did you choose your major?
As a Liberal Arts student, I was able to propose my own degree plan and take the classes that I not only wanted to take, but that I also felt were necessary in my desired career path of professional school counseling. I was able to craft my degree based on the skills and educational opportunities that I deemed necessary to receiving a true liberal arts education.
What projects, such as travel/research opportunities, have you done within your major?
Currently, I am part of a research team led by Associate Professor of Psychology Jessica Fleck and Professor of Psychology Marcello Spinella. My team members and I are working in the electroencephalography lab to collect and analyze data that will help us look at the relationship between brain activity and specific areas of mindfulness. It has provided me with incredible hands-on experience in the field of research. Last semester, I completed a senior writing project in which I created a student handbook for high school seniors transitioning into college. This project allowed me to work with other writers to workshop, critique and finalize a project which I will be able to showcase to future employers.
How did Stockton advance your career after graduation?
I find myself missing Stockton every single day. I would certainly not be in the position I am in today if it were not for my undergraduate career. Stockton provided me with experiences that were unique, and because of those experiences, I have been able to continue my education and advance my career. During my time at Stockton, I discovered my passion and set my long-term goals. With the help of my incredible professors, my supervisors and my own academic adviser, I was able to make connections, obtain unique experiences and complete the tasks needed to make those goals a reality.
What are your career goals?
In the future, I hope to become a professional school counselor or higher education academic adviser. I am currently in my first year of the counseling program at Rowan, and I hope to complete my fieldwork experience on Stockton's campus. I have a strong desire to come back to Stockton, so I am taking every opportunity I get to do so!
Extracurricular Activities:
Academic Tutoring Center peer tutor
---