Liberal Studies B.A. (LIBA) Major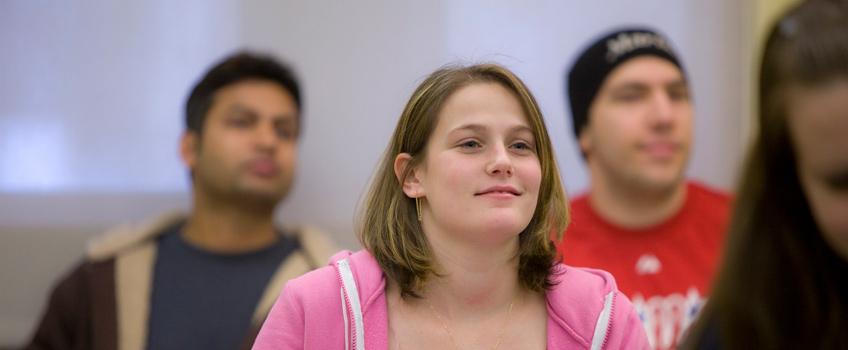 The Bachelor of Arts in Liberal Studies (Liberal B.A. or LIBA) is an option for students whose educational or career goals or academic interests are not met by any of Stockton's existing degree programs.
The Liberal B.A., or LIBA, permits students to design a complete 128-credit interdisciplinary program suited to their individual needs and plans.
---
About the Liberal Studies Program
The Liberal Studies Program program provides extraordinary opportunities for creativity in educational planning and allows students to take advantage of a wide range of Stockton's faculty and other resources.
Like any Stockton degree program, a Liberal B.A. program should show coherence, breadth of education and depth of study in a particular area. Like any Stockton Bachelor of Arts program, it should also reflect the University's commitment to the liberal arts in the general education of students. Liberal Studies majors are not exempt from the General Studies requirements.
Organization
The organization of a Liberal Studies B.A. may take several forms depending on the particular interests and needs of the student. The course of study, and the proposal describing it, must reflect a central unifying purpose or theme.
In recent years, students have pursued the following interests through the LIBA Program:
Thematic/topical — interdisciplinary exploration of a particular theme or topic (e.g., "Freedom and Constraint" and "The World, Its People, and Their Art");


Expanded study in a topical program (e.g., gerontology, Women's Studies, American studies or humanities)



Pre-professional — interdisciplinary study intended to prepare the student either to enter a particular career field (e.g., wildlife illustration or fine arts management), or to attend graduate or professional school in a variety of areas.
Requirements
Although proposals resembling an existing degree program may be approved, the LIBA major may not replicate or replace an established program in another school. Students pursuing a specific career or graduate study will be advised to solicit and consider the advice of faculty in similar or related disciplines and programs.
The basic requirements for students undertaking a Liberal Studies B.A. are planning and thinking. In close consultation with an advisor and counsel from faculty members proximate to the student's goals, students will develop a coherent set of classroom courses, independent study projects and (if appropriate) off-campus experiences, all of which are intended to meet the particular objectives of his/her program faculty. Proposals will be reviewed by the preceptor, the LIBA convenor and the dean of General Studies. The student should also plan for a senior project that will provide a capstone for the program and an opportunity to demonstrate what he/she has learned.


Planning for a LIBA should normally be started before a student reaches junior status. Therefore, transfer students with junior standing must act quickly if they wish to pursue the LIBA option.


Final approval must be obtained prior to achievement of senior status (i.e., before the 96th credit is completed). A proposal will be considered only if it calls for a least a full year of additional course work (32 credits) subsequent to its approval. Approval is normally obtained prior to the completion of 80 credits.


Students interested in pursuing the Liberal Studies B.A. should discuss their ideas with staff in the Center for Academic Advising (CC242) as early as possible and consult regularly with their preceptor and Academic Advising while developing their plans. The preceptor will help students obtain advice from at least two faculty members who will serve as co-sponsors for their programs. As LIBA programs are usually interdisciplinary, these faculty members should represent different disciplines.



The most important requirement for entering the Liberal B.A. program is the preparation of a written proposal. Detailed instructions for preparing a proposal are available from the Center for Academic Advising (CC242). The Liberal B.A. program is not intended to be a default option for students in other majors who may not earn enough credits to graduate from another program.
Opportunities
The Intra-School LIBA provides loose guidelines for LIBA degree opportunities for students who might have difficulty mapping out his/her curricula.
These prompts are comprised of courses taken across Programs in a particular School (Intra-School LIBA) and those that include courses in General Studies' minors.
These prompts offer examples only; individual students should craft a curriculum that suits his/her academic, professional, and personal goals.