Freshman Seminar

The Freshman Seminars are an integral part of your first-semester experience at Stockton. Each course has a different content area. That makes our program unique. Students can take classes on sustainability issues, diversity, history of Paris, or detectives in literature besides working on the essential elements of critical reading, writing, speaking and listening, and information literacy. These skills will make you a better college student and help you achieve your life-long goals.
Freshman Seminars also include a common reading. Every summer, incoming first-year students are given a book at Orientation. Most Freshman Seminar instructors will use this book early in the course, so you should have read it before school begins. This book is your first common intellectual experience with your class. There is a Freshman Convocation on the last Thursday of September; often, the speaker is the author of the common reading. Students are encouraged to ask the speaker questions. When the speaker is the author of the common reading, bring your book to the Convocation, and the author will autograph it for you! The Convocation is yet another shared academic experience. These common experiences will show you the importance of exchanging ideas with your peers and experts in various areas, and help you form (or reinforce) your academic goals and intellectual aspirations.
Freshman Seminars are an essential part of the First Year Experience (FYE) at Stockton, and the coordinators of both programs work closely to ensure that our freshmen have a welcoming and challenging first year.
---
Common Reading
This Year's common reading is Trust Me, I'm Lying, Confessions of a Media Manipulator, by Ryan Holiday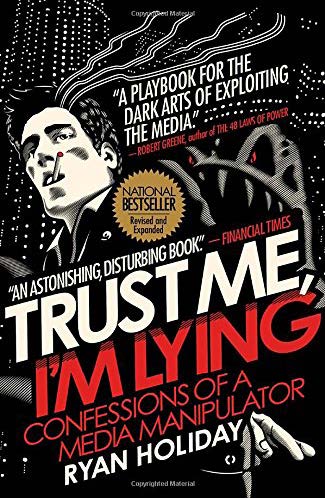 "You've seen it all before. A malicious on-line rumor costs a company millions. A political sideshow derails the national news cycle and destroys a candidate. Some product or celebrity zooms from total obscurity to viral sensation. What you don't know is that someone is responsible for all this. Usually, someone like me.
I'm a media manipulator. In a world where blogs control and distort the news, my job is to control blogs-as much as any one person can." - Ryan Holiday
---
Freshman Convocation
Thursday September 28, 2017 at 4:30pm in the Performing Arts Center
Ryan Holiday, the author for Trust Me, I'm Lying, will be here to speak. "A Playbook For The Dark Arts Of Exploiting The Media".
---
Seminar Descriptions
---
Resources for Faculty