Message from the Dean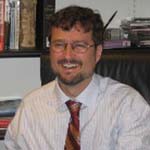 Robert S. Gregg
Dean, School of General Studies & Graduate Education
Welcome the William T. Daly School of General Studies (GENS). The William T. Daly School of General Studies oversees the University curriculum's "commons," the place where students and faculty with various specializations explore the world of knowledge, ideas, and issues, often in an interdisciplinary way. This aspect of the curriculum is the most distinctive part of Stockton University and the School helps to ensure that it continues to be vibrant and cutting edge, and a great preparation for the changing workplace students face after graduation.
Not only does the School provide interdisciplinary courses that supplement and challenge the courses students take in their majors, it also enables them to bring these together into interdisciplinary minors, like Cannabis Studies, Africana Studies, or Digital Literacy and Multimedia Design, Disability Studies, Global Studies, Holocaust & Genocide Studiers, Jewish Studies, Latin American and Caribbean Studies, Migration Studies, Women, Gender & Sexuality Studies, and Writing. These minors help fill out students' transcripts and strengthen their resumes on the job market.
The largest program in General Studies is the First Year Studies program. The faculty members in this program oversee the curriculum for freshman students and help to provide a very strong grounding in Math, Writing, and Critical Thinking. The university's very strong retention rate owes a great deal to the tireless work of these excellent faculty members, including the work of our Freshman Seminar instructors.
FRST faculty members are bolstered in their work by other units that General Studies oversees. The Tutoring Center has earned its reputation as the friendliest place on campus. Here our tutors provide help for any student who wants assistance with a paper or a difficult Math problem.
General Studies is also home to the Writing and Quantitative Reasoning Across the Disciplines (QUAD) programs. These programs involve faculty members across the university in the shared work of helping students develop and hone their writing and quantitative reasoning skills.
In addition, General Studies includes a growing and energetic service learning operation, which oversees service-learning experiences through our courses as well as other internship opportunities. We have a strong Honors program that inspires some of our very best students.
One of the most interesting features of General Studies is its commitment to Holocaust and Genocide Studies. The school oversees the Sara and Sam Schoffer Holocaust Resource Center, which is a leading center in the country. But, in addition to this, Stockton offers a minor in Holocaust and Genocide Studies, and a Masters degree as well. Yad Vashem, the world's leading Holocaust museum, recently declared that Stockton offers more courses and teaches more students about the Holocaust and genocide than any other educational institution in the world. More than a 1000 students each year have the opportunity to become informed about these issues that continue to have such a bearing on human history.
William T. Daly School of General Studies is the heart and soul of Stockton. We live up to the motto, "Stockton friendly," while also challenging students to reach their full potential.