Rebecca Howard '18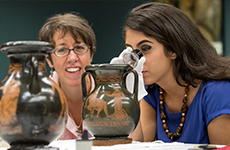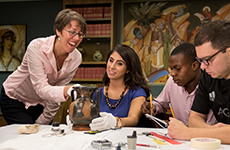 Why did you choose Stockton?
I chose Stockton because of the friendly and peaceful atmosphere. The professors are very devoted to your education and the overall mood of the campus is extremely comforting.
Why did you choose your major?
I chose Historical Studies as my major because it is the only subject I've ever wanted to study. Being able to draw connections from the past and understand how we got to where we are today is important to me. It is also a great background for my desired career path of being a librarian.
What kind of classes have you taken within your program?
Beginning with my Introduction to the Study of History course, I was really inspired by what each of the History professors had to say about his or her research. Hearing about the various subjects within their area of history made me want to further my History education. At Stockton, I have been able to take courses that pertain to different countries, politics, religions and cultures. Everyone in the Historical Studies program is so passionate about what they research and teach, and motivates me to pursue a career.
What are your career goals?
Currently, I am seeking to apply to a master's degree in a Library Sciences program. I am confident that my undergraduate education in History from Stockton will prepare me well for my future education and career.
---