Yomaris Acosta '19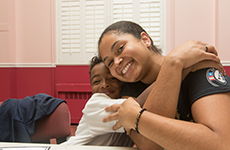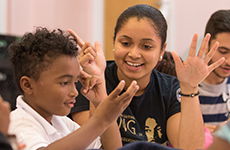 Why did you choose Stockton?
I originally attended a different institution and decided to transfer to Stockton after my first year. I wanted to go to a small liberal arts college to have the opportunity to sample courses from a plethora of departments. I also loved the fact that Stockton had small class sizes, which meant I could establish close relationships with my professors and my classmates.
Why did you choose your major?
After my time at Stockton, I plan on going to law school and becoming a Criminal Defense Attorney. I chose to be a Criminal Justice major so that I could better understand how our criminal justice system works.
What do you hope to get out of your academic program?
I hope to enhance my knowledge of the criminal justice system, why people do the things they do and learn ways that can help me defend someone who is wrongly accused.
What projects, such as travel/research opportunities, have you done within your major?
The opportunities I have received at Stockton through my major have been indescribable. I have had the privilege to attend the Presidential Inauguration Seminar in Washington, D.C., for three weeks, build a home for an Army veteran in West Virginia, study abroad in Jeju Island, South Korea, intern at a police department, intern at a law firm, and intern for the U.S. Secret Service.
I am currently conducting an independent study through a program called Connect AC. I am working directly with the Atlantic City Rescue Mission and JFS-Atlantic Homeless Alliance toward a common goal for Atlantic County. I am responsible for entering data into the Homelessness Management Information System for both of the agencies. The study analyzes what services are being used and needed from residents of Atlantic County.
How did you get involved with the Stockton Center for Community Engagement's homework completion program?
I remember migrating from the Dominican Republic to the U.S. at the age of four with my mom. We lived in Atlantic City and at the time, she worked two jobs. She decided to sign me up for an afterschool homework program. I barely knew English but I remember having such patient teachers and volunteers around me. All of those people taught me that despite where I came from I could be anything I wanted to be and do anything I set my mind to. I have the privilege of being a lead Student Fellow for the Homework Completion Program. To me, it is not a job or another item to add to my résumé. It is something I am passionate about and knowing that I have the opportunity to show my students all the amazing things they have waiting for them beyond Atlantic City is truly a blessing. From a very young age, I wanted to change the world and leave a mark. I am doing just that four days out of the week by helping the students with their homework and by being someone they can look up to.
Extracurricular Activities:
Global Student Ambassador for the Office of Global Engagement; Secretary for the National Honor Society of Leadership and Success; and Student Fellow for the Stockton Center for Community Engagement.
---