Mr. Jaiden Chavis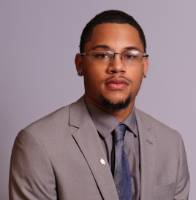 Originally from Queens, New York, Mr. Jaiden Chavis attended Bound Brook High School in New Jersey, where he joined the high school football team to learn new skills and create lasting friendships while working as a means to support his household. Throughout high school, Jaiden quickly worked his way from basic level college prep classes into advanced placement courses. With his high school experience, he was able to learn networking and leadership skills and strategic planning.
Jaiden's desire to be at Stockton came from his desire to challenge himself by coming to a new and foreign community and environment. Stockton's location was also a factor because it was not too close to home but not far enough to where he could not take the occasional homesick trip back to see his family.
As a Psychology major with a focus in forensics, Jaiden's overall goal is to start his own practice somewhere down the line. In addition, Jaiden's goal here at Stockton is to polish his skills, learn new ones, and try and become someone who is remembered at this institution even after he is gone.
Jaiden is currently a Residential Assistant and student worker in the Dean of Students office. He also serves as a member of the Student Senate and the Alpha Lambda Delta Honor Society in addition to serving on the Board of Trustees.