Mr. Jose Lozano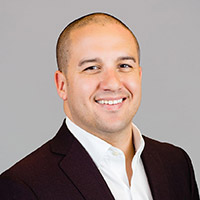 Jose Lozano is President & Chief Executive Officer of Choose New Jersey, New Jersey's leading nonprofit economic development organization.
An accomplished executive in strategy, operations, public relations and communications across multiple sectors, Jose has distinguished himself through a solid record of achievement in state, national and international affairs.
Prior to leading Choose New Jersey, Jose served as Chief of Staff and Vice President for Corporate Services and Governance at Hackensack Meridian Health, where he managed several critical executive office functions including corporate relations, strategy development, operations, board relations, public relations and communications.
Before joining the Hackensack Meridian Health leadership team, Jose served in the Obama Administration as Deputy Chief of Staff and homeland security advisor at the U.S. Environmental Protection Agency, leading an immediate staff of 100+ in the development and implementation of the agency's environmental agenda domestically and abroad.
His years of experience in these positions and others, including as Executive Director of the 2017 Transition for Governor-elect Phil Murphy, Director of External Affairs for the newly created New Jersey Office of Homeland Security and Preparedness, Director of Operations for New Jersey Governor Jon S. Corzine, and Transition Staff for Obama/Biden, have given Jose unique expertise in building and managing organizations through times of crisis, transition, merger and consolidation.
Widely recognized as one of New Jersey's leading young executives, he has been named among NJBiz's Top 40 Under 40, Becker's Hospital Review's 60 National Rising Stars Under 40, ROI-NJ's Power 100, and listed #2 on their 2019 People of Color Influencer List. Jose currently serves on several boards, including the National Advisory Board of the John J. Heldrich Center for Workforce Development, NJ Innovation Institute, New Jersey Chapter of NAIOP and New Jersey Future.
Jose is a New Jersey native, who received his Bachelor of Arts from Stockton University and a Masters degree from the University of Maryland, College Park. He and his wife, Amanda, live in Oradell, NJ with their two daughters.