Mr. Stanley M. Ellis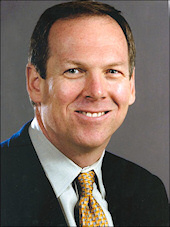 Mr. Stan Ellis has been a member of Stockton's Board of Trustees since 2004.
Mr. Ellis currently serves as the Director of Calkins Media Incorporated. He previously held the position of Vice President and Director of Strategy for the Burlington County Times, Publisher for the Burlington County Times and several management positions within Calkins Media, Inc., the parent corporation of the BCT.
A 1975 graduate of Palmyra High School, Stan is also a graduate of Penn State University with a B.S. in Marketing and earned his M.B.A. from the University of Pennsylvania Wharton School.
The Burlington County Times' commitment to programs such as United Way, The American Heart Association, The American Red Cross, March of Dimes and Give-a-Christmas, is supported and encouraged by Stan. He is currently serving as Secretary and Treasurer of Family Service of Burlington County as well as chairing their Finance Committee. He is serving on the Conceptual Planning Committee of the Family Y of Burlington County and chairs their Public Policy Committee. He has recently been elected to the Board of Directors of St. Mary's Hall/Doane Academy in Burlington City. Additionally, he serves on the board of the Burlington County College Foundation and was 1993 United Way General Campaign Chair, having previously served on the United Way Board of Directors and Executive Committee.
Stan has been a member of the New Jersey Press Association Board of Directors since 1993 and is a past president of NJPA.
In 1993, The Burlington County Chamber of Commerce presented Stan with its prestigious "Voice of Business" award. In addition, in 1995, the United Way of Burlington County awarded Stan "Volunteer of the Year".
On the personal side, Stan is a soccer coach for the Palmyra/Riverton Athletic Association. Stan and his wife, Sue, live in Riverton with their three sons, Stephen, Ryan and Curran. Although he travels extensively among the various Calkins Media properties, he always finds the time to enjoy his children and pursue his hobbies -- reading, skiing, boating and golf. During the summer, you can find his family weekending at the New Jersey shore.