All-Gender Restroom and Lactation Room Location Maps
Welcome to the Stockton University's inclusive facilities webpage. Here you can find maps of all gender restrooms and lactation rooms on both the Galloway and Atlantic City campuses. These facilities are designed to provide a safe and comfortable space for all members of the Stockton community, regardless of their gender identity, expression, or parenting status.
All gender restrooms are single-occupancy restrooms that can be used by anyone, regardless of their gender. They are also accessible for people with disabilities and have baby changing stations. Lactation rooms are private rooms that can be used by nursing mothers to express breast milk. They are equipped with comfortable chairs, tables, outlets, refrigerators, and sinks.
To access the maps of these facilities, please click on the links below: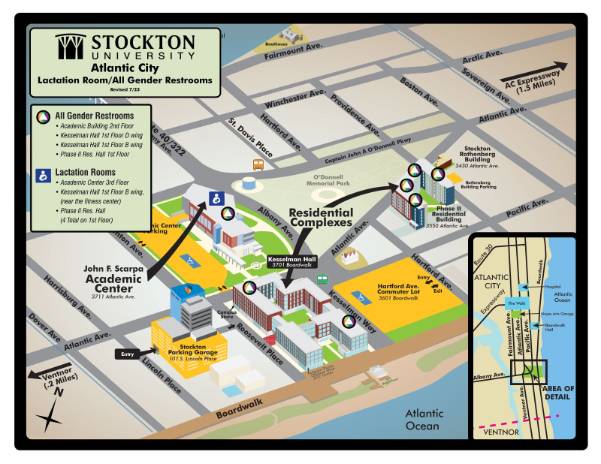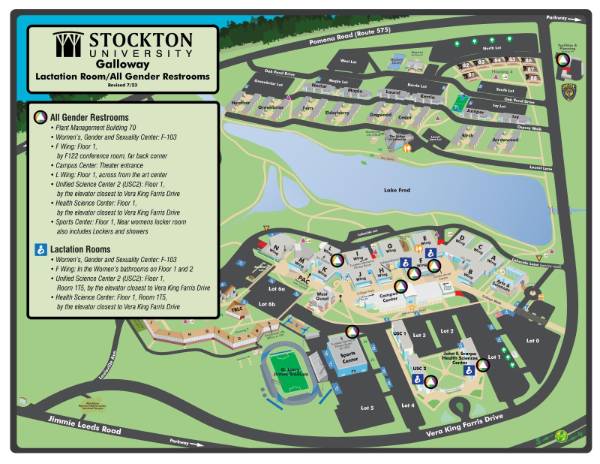 We hope you find these maps useful and informative. If you have any questions or feedback, please contact the Office of Institutional Diversity and Equity at diversity@stockton.edu or (609) 652-4693 or the Women's, Gender & Sexuality Center at wgsc@stockton.edu or (609) 626-3611. Thank you for visiting and supporting our inclusive campus culture.