Emily Dolhansky '16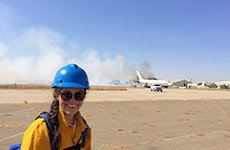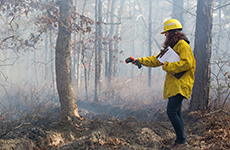 Why did you choose Stockton?
I first applied to Stockton because I remember my high school AP Environmental Science teacher telling me it had an excellent Environmental Science program. I wanted to attend a state school where I could live on campus but also visit home whenever I wanted to. I had actually never been to Stockton until I was accepted and went to freshman orientation – I immediately fell in love with the campus and could not wait to begin my studies. As an Environmental Science major, it felt appropriate to attend this University nestled in the New Jersey Pine Barrens.
Why did you choose your major?
When I was applying to colleges, I still was not convinced I wanted to major in Environmental Science. I actually applied to Stockton as a Literature major and changed it to Environmental Science the day of my orientation. The professors I talked to that day were super encouraging and convinced me that there was so much to explore within the ENVL program; I did not have to be confined to one area of study. I eventually chose Forestry as my concentration after taking a few upper-level forestry courses. Professor of Environmental Studies George Zimmermann, who teaches Ecological Forest Management, always described forestry as both "an art and a science" and that had a big impact on me. I have always been creative and scientifically minded, and I really enjoy the unique challenges that forestry presents.
What are some of the projects you are involved with as a graduate student and research assistant at the Yale School of Forestry and Environmental Studies?
My graduate school is amazing because just like Stockton, there is so much you can be involved with that does not have to be directly related to your studies. During my first year, I helped a professor edit a textbook she was writing, and I wrote for the Yale Environment Review, which is a student-run publication. I also co-lead the Fire Ecology and Management Student Interest Group (the Student Interest Groups on campus are essentially clubs), and I'm a member of the Society of American Foresters student chapter at Yale. During the winter of 2016-2017, I had an internship in California where I completed an inventory of trees that have been killed by bark beetles and drought for the Bureau of Land Management. Most recently, I was in Yosemite National Park for a prescribed fire training exchange where I learned all about wildland firefighting operations from professionals.
How did your experiences at Stockton direct the path you are on now?
Part of being a successful scientist is being an excellent communicator, and I had ample opportunities at Stockton to work on communication skills and other aspects of professional development. I was a Resident Assistant for three years and learned the importance of teamwork and leadership during that time. In terms of schoolwork, Stockton has a great Environmental Science curriculum and every professor I had pushed me to do my best. I worked on a number of forestry projects with Dr. Zimmermann, and I got to use the campus's forests as a "living laboratory." Getting outdoors is critical to learning forestry, and I would have never learned all that I did in a typical classroom setting. Finally, I got to go on several study tours, including one to Ecuador and one to the Adirondack Park, and they helped me expand my horizons.
The first time I saw a forest burn was while I was studying forestry at Stockton University. The New Jersey Forest Fire Service was conducting a prescribed burn on Stockton University's campus. I had never seen a forest fire before and experiencing it firsthand was transformative. I documented the experience in the article, Women of the Wildlands, published in SAGE Magazine in July 2018.
What is it like chasing wildfires in California?
When most people think of wildfires, they think of the huge, scary blazes you see on TV and in movies. The wildfires I saw in Yosemite were much smaller and they were being managed for resource benefits! Over the years, a lot of fuel in the form of trees and leaf litter has built up in the park, so managers were letting the fire burn to decrease that buildup. When I saw the fire, it was slowly creeping along the ground, but every once in awhile whole trees would catch on fire and "torch." I think the most impressive thing about that wildfire was the sound – imagine the crackling of a bonfire, but on acres and acres of land.
Proudest accomplishments:
My proudest accomplishment was creating my master's research project from scratch and completing my fieldwork this past summer. In many graduate programs, you are expected to work on whatever your advisor is doing, but at the Yale School of Forestry you can research whatever you want. I chose to study the effects of fire on the pitch pine tree, since this is a topic I have been interested in since I was at Stockton. My project was fully funded and I was even able to hire a Stockton undergraduate, Ariana Koncelik, to be my research assistant for the summer. Starting a research project from the ground up is a lot more involved than it sounds, and I have learned so much in the process. I hope that my findings can be used to guide better management practices in Pine Barrens ecosystems in the Northeast.
---