Favad Akhtar '16 '20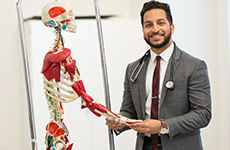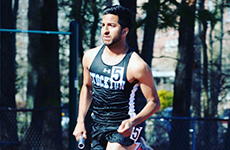 Why did you choose Stockton University?
My decision to attend Stockton University was based upon many factors, including two siblings who previously attended Stockton, cost, proximity to home and Stockton's strong background in the sciences. Both my siblings graduated Stockton with Biology degrees and had nothing but positive remarks about the professors who would take extra time out to ensure the students understood the material and the small class sizes where the professors would know you by a first name basis. I was also very interested in Stockton's athletics and subsequently competed in cross-country, indoor and outdoor track for four years. The close-knit community atmosphere Stockton possesses will make any student feel welcome; it did for me.
Why did you choose your major?
Science courses have intrigued me since taking anatomy and physiology at Atlantic City High School. The body may seem like it is working effortlessly to perform activities of daily living, like getting out of bed in the morning or walking; but there are numerous intricate processes that occur to ensure these actions occur with no problems. I am fascinated with how the body works and Biology would show me how the body works and how we function.
What have you gotten out of your academic program so far?
I am currently in the Doctor of Physical Therapy Program at Stockton University and have completed half of the three-year program. The DPT program has taught me skills that I will use in practice, along with confidence that will be necessary when handling multiple patients every day.
What unique opportunities have you had at Stockton?
During senior year of my undergraduate work, I attended a faculty-led trip to Bogota, Colombia. Through the Educational Opportunity Fund (EOF) program, I was given the opportunity to be the only undergraduate student to go on the trip. The 10-day trip changed my entire outlook on the health care field and allowed me to be immersed in a completely different culture. The trip has inspired me to one day travel to areas that are unable to afford medical services and provide any help that I can.
What are your career goals?
I hope to work as a travel physical therapist to learn the intricacies of various hospital settings around the United States and work with multiple physical therapists who possess different specializations. Eventually, I would like to settle down in New Jersey and work in my own clinic.
How has the EOF program impacted your educational career and experience at Stockton?
From entering Stockton University through the EOF program in 2012, through working as the academic coordinator of EOF during the summer of 2018, I have seen the EOF program continue to inspire and provide opportunity to those students whom college may not be an option for because of financial reasons. As an incoming freshman, dealing with financial aid, loans, housing, meal-plans and choosing classes can quickly become stressful. The EOF program doors were always open for any question I ever had. Not only as a freshman, but my entire undergraduate and now graduate career, EOF continues to guide me in the right direction for any of my concerns. They have a played a paramount role in my development as a student and as a person.
---