Ryan Luurtsema '19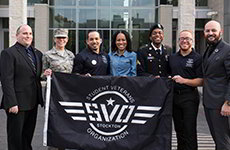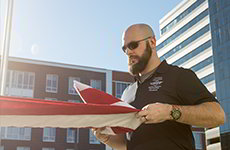 Why did you choose Stockton?
Getting out of the military while stationed in Germany in 2016, the last thing on my mind was getting a degree. However, Tom O'Donnell (retired Director of Military & Veteran Services) contacted me while my family was still living in Europe and took care of all the stress that a new student would fear: the application process; class selection and more. Tom told me my first day on campus, "If you want to make a difference, you want to stand out and be a representation of what an active veteran is, then Stockton is your new mission." Since then, I have not looked back at my choice, and it is my goal to impact anyone for the good of campus.
Why did you choose your major?
I have always been told I am great with people—patient, thoughtful and organized. Looking into the Hospitality program, my focus isn't the hotel and casino industry, but the human relations effect of what that industry provides to New Jersey. The hospitality industry is a major player in the state GDP, so I wanted to learn how to bring back not just tourists, but everyone to New Jersey. Through this program, I am able to learn different facets of the industry from local enthusiasts, to corporate giants creating opportunity in this state.
How has your role as president of the Student Veterans Organization shaped your Stockton experience?
I am put in a position that is entrusted by many to advocate for the few. Being that advocate, I want nothing but the best of what the institution has to offer when it comes to being a student veteran. I am blessed to have an incredible team of executive board members making a difference on campus, creating a unified voice of what it will take to bridge the gap of understanding to the campus community.
You are an alumnus of the Fort Dix Challenge Academy and recently returned to speak to current students. What were the messages you shared?
Take the disciplines of what you are taught there and maximize your personal courage to do better in the world, to the people around you, and to the people you are yet to meet. Age, race, ethnicity, gender—it doesn't matter where you come from, but how you can share your experience with others to make an impact. People should never look to change others, but to enhance people around them into something greater than before.
What does leadership mean to you?
Leadership is taking the chance on something greater than yourself. Creating a perspective of morale and confidence. When people stand up for something, it creates courage, confidence and excellence. It isn't perfect, nothing is—however, it is that small moment in time that shows anyone can be a leader. But in order to lead, you first must learn to listen.
What are your goals after you graduate?
I hope to continue being an advocate for veterans in New Jersey, in public life, corporate or even Veteran Affairs.
Extracurricular activities/Hobbies:
My greatest peace is riding my motorcycle with my wife, Erin, or heading to the beach with the family. Something about sand between the toes…it goes far.
---