New Employee Guide
Welcome to the Stockton University family! We are excited to have you joining our community. Please use the resources in this Employee Guide to help you navigate through the transition of becoming a full-fledged employee.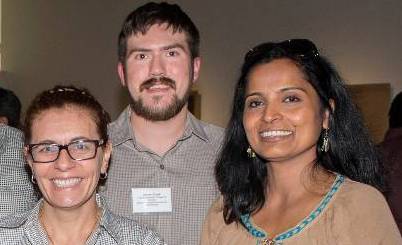 New Hire Orientation
Within days of joining the Stockton University new employees will be contacted by the Office of Human Resources to schedule a New Hire Orientation session. At this meeting the employee is introduced to the mission of the University, how the University is organized, basic expectations for all University employees and is given a tour of the University campus. Another important component of the orientation is an overview of our medical, dental, life, pension and disability insurance packages. Additional benefits such as tuition waiver, tuition reimbursement, credit union, etc. are also discussed.
New Faculty Orientation
New Faculty Orientation is a two-day event in early August which combines new hire orientation with additional programs and resources aimed at welcoming and preparing new faculty for teaching at Stockton.
New faculty will be sent invites to this summer program.
This Employee Guide contains only general guidelines and information. It is an electronic guide replacing the printed version of the employee handbook. It is not intended to be comprehensive or to address all possible applications of, or exceptions to, the general policies and procedures described. For that reason, if you have any questions concerning eligibility for a particular benefit, or the applicability of a policy or practice to you, you should address your specific questions to the Office of Human Resources. Neither this guide nor any other University document confers any right, either expressed or implied, to remain in the University's employ. Nor does it guarantee any fixed terms or conditions of employment. Your employment may be terminated pursuant to applicable University policies and procedures or Union contract. If you are an employee on contract, the University may elect not to renew your contract, with or without cause, upon expiration of the contract. No supervisor or other representative of Stockton University (except the President) has the authority to enter into any agreement for employment for any specified period of time, or to make any agreement contrary to the above.
Some of the subjects described in this guide are covered in detail in official policy and procedure documents. You should refer to these documents for specific information, since this guide only briefly summarizes those benefits. Please note that the terms of the State Health Benefits/Retirement Plans and their written insurance policies are controlling.
The procedures, practices, policies, and benefits described here may be modified or discontinued from time to time. Every attempt will be made to inform you of any changes as they occur. However, it is your responsibility to keep current of all University policies and procedures. It is your responsibility to review University policies and procedures in detail and to request any clarification needed from your supervisor or the Office of Human Resources. Violation of University policies or procedures may result in disciplinary action, including termination of employment.
Institutional Information
Human Resources Policies, Procedures, & Information
Equal Opportunity & Institutional Compliance Policies & Information
Stockton University Policy on Non-Discrimination
Stockton University does not discriminate in its application process, employment, educational programs and activities on the basis of race, creed, color, national origin, nationality, ancestry, age, sex/gender (including pregnancy), marital status, domestic partnership status, familial status, religion, affectional or sexual orientation, gender identity or expression, atypical hereditary cellular or blood trait, genetic information, liability for service in the Armed Forces of the United States, or disability.
All inquiries regarding Stockton University's non-discrimination policies should be made to:
Tammy Saunders, Stockton's Title IX Director
Stockton University
101 Vera King Farris Drive
Galloway, NJ 08205
Office: L-214
Phone: 609-652-4693 | Fax: 609-626-3535
Information on how to report or file a complaint of sex discrimination or sexual harassment and all grievance procedures is available on the Title IX website.
Stockton University is committed to providing every University employee and prospective University employee with a work environment free from prohibited discrimination or harassment. The Policy Prohibiting Discrimination in the Workplace lays out exactly what behaviors and actions are prohibited, what the procedures are for filing a complaint, and all details related to the policy.
The Title IX of the Education amendments of 1972 protects people from sex discrimination in educational programs and activities at institutions that receive federal financial assistance.
The University is committed to providing an environment free from discrimination on the basis of sex. Stockton provides many resources to students, faculty, and staff to address concerns relating to discrimination on the basis of sex, which includes sexual misconduct.
The Clery Act requires institutions to report crimes that happen on, near, and immediately adjacent to campus. Every year the Stockton Police Department publishes an annual security report that includes three previous years of crime statistics. Under the Clery Act some employees are designated Campus Security Authorities (CSA) and will receive annual additional training on when and how to report all crimes reported to them.
Diversity & Inclusion Policies & Information
In accordance with the regulations of the New Jersey State Ethics Commission, it is public policy in New Jersey that the conduct of public officials and employees maintain the respect and confidence of the public. Please review the links below to understand the New Jersey State Ethics Code and state employees' responsibilities under the code.
Outside Activity Questionnaire (for full-time employees) or the Outside Employment Questionnaire form (for adjunct & Part-time employees). These forms can be accessed once you

log-in

with your Stockton credentials.
Supervisory Conflicts of Interest Certification (for full-time employees). This form can be accessed once you

log-in

with your Stockton credentials.
Annual Ethics Training link:

this online training

must be completed within 30 days of hire
Make sure you click on the correct ethics training module/s:
State Employee Training Module for Staff/Non-faculty; OR
College and University Faculty Training Module AND Cannabis Briefing Module for Faculty
Special State Officer Training Module AND Cannabis Briefing Module for TES and Adjuncts
Questions about any of the links or requirements above should be directed to the Office of Diversity & Inclusion.
Check out the Diversity & Inclusion website to learn more about the work of the Office of Diversity & Inclusion.
Additional Employee-Related Policies & Procedures
Union Affiliations
Pensions & Benefits
The University Pensions & Benefits page covers all your benefits as a Stockton employee - health insurance, dental insurance, prescription and vision coverage, pensions and retirement benefits, tuition assistance, tuition exchange, and much, much more!
Here is the link to the slides shared during NHO that will help you navigate all of the benefit options (recommended that you use Chrome or Firefox when opening this link).
Payroll
The
Payroll
page provides employees with information regarding withholding of taxes and other deductions, reimbursement forms, deferred salary options for faculty, important information regarding time & attendance, as well as instructions on how to access employee only forms.
Helpful Campus Resources and Services
Need Assistance?
View the full list of HR staff including notes on who can help you with what
Or, call us at 609-652-4384
Or stop by our suite in J-115
We look forward to getting you what you need, answering your questions, and/or connecting you with the HR team member that can best help you.